Welcome To Your Effort Free Starter Pack Application
With your free Effort Free starter pack you are going to get:
A detailed TWENTY TWO booklet telling you exactly what the Effort Free process is all about, how powerful it is, how it can be used on exactly what your challenge is at the moment – yet, how simple it is.
Your FIFTEEN page booklet showing you how many people around the world have benefited and how! People have used it for relationships, work, life opportunities, health, money and far more. Read, be inspired and see if people have used it to get exactly the results you are after – you will be amazed at the impact it has had.
A Mind Blowing 30 minute live recording of the Effort Free Course being used on 2 radio presenters in America, you hear it being used live on the presenters, exactly what it is and the background and power of it. Hear how 2 radio presenters went from "what is this?" to "WOW – WHAT IS THIS!!
You get a questionnaire with some simple feedback for you to tell us why you are interested in this sample pack. All questionnaires sent back, get the users the opportunity to access a powerful book called "Dissolving Mental Shackles" which are holding you back from success.

> It looks at the limiting beliefs which people carry around, sometimes subconsciously, which hold them back, without them realising it.

> It looks at the ONE thing scientists agree on to help you get on and achieve what you dream of getting.

> It goes into the power of one simple act and live examples of how it paid back far more than it delivered!

And more…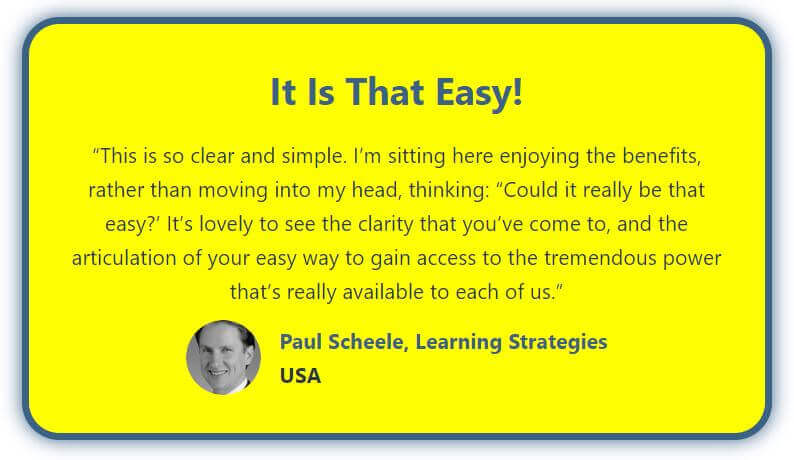 WHAT NEXT

1. Fill out the form and tell us where you want your starter pack sending
2. Get the questionnaire (3 simple questions) returned to a unique address & get your extra bonus book
3. Go through the starter pack and then contact our customer support to give us your feedback.